These women are all about the bass, the drums, the music, the vocals… and their families. These female rock stars are proof that motherhood may not be as easy as ABC, but when you play the strings right it can be as fun as doing live gig sessions.
Make some noise for your mommy rockers who are a pedestal to the Pinoy rock band scene and are behind some of your favorite rock songs!
1. Barbie Almalbis
Barbie faces motherhood with a smile and a new heart. Your favorite lady jammer from tabing ilog days is a mother who puts her love for music to apply to her children's, Liam and Stina's outlook in life.
Just like every first-time mother, Barbie has faced heart attacks whenever her kids stumble and fall, but at the end of the day, she makes sure that her parenting is always in line with her kids' love for music, as well as help boost their confidence.
2. Lalay Lim-Geronimo
The band may have broken up for the time being (you can still hear a lot of fans' hearts breaking), but motherhood goes on for Urbandub's famed femme bassist, Lalay Lim.
After tying the knot (while playing the bass in her wedding gown!) and succumbing to the call of motherhood, Lalay has embraced parenting in a new tone. With Lalay's passion for music, little Abbey is going to have a good time growing up!
3. Kat Taylor
From leading a band of four men and down to two extra pogi boys, Saydie's punk chic vocalist, Kat, has become a queen in her circle of boys' world.
When Kat's outside, her extra strong metal performances, she becomes 'Mrs. Caves' a doting mother to her two boys, Bishop and Kasper, and a loving wife to her husband. She makes sure that when it comes to music and motherhood, she can rock the best of both worlds.
4. Bea Lao
General Luna's dame of the drums, Bea Lao, is a famed drummer in the Pinoy rock scene. She's a role model of little girls who aspire to become a drummer one day. Despite life and relationship conflicts, she remains a loving mother to Halo Eve, her baby girl.
5. Kitchie Nadal
A post shared by Kitchie Nadal (@kitchienadal) on
Your OPM queen, Kitchie, is the artist behind famed tagalog songs you have jammed with way back before. From 'Wag na wag mong sasabihin' to 'Same ground,' she's part of the local music scene's hall of fame and will remain to be so even when a new journey awaits her.
Kitchie is a few months away to starting a new life chapter and it's going to be a 'majikal' moment.
6. Tessy Alfonso (Sampaguita)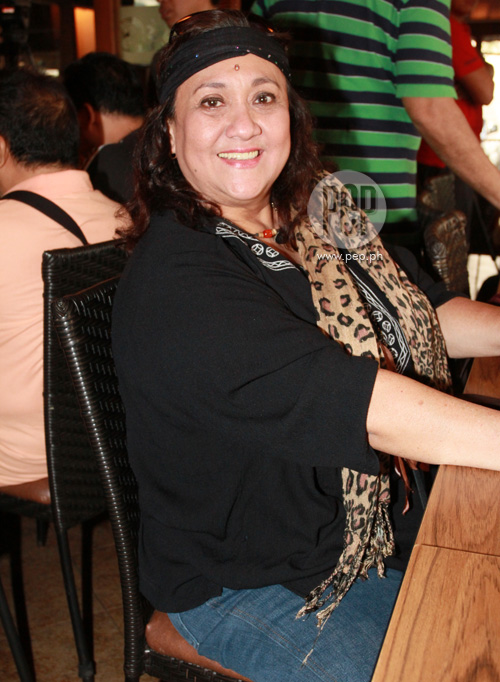 Nosi balasi ba kamo? Remember the name, Tessy Alfonso.
Tessy Alfonso aka Sampaguita is a classic Pinoy rock icon since the '80s era. Her lyrics speak to society and have sparked perspective changing circumstances for Filipinos.
Outside the rock scene, Tessy's a mother of three: Dolly, Kowboy, and Jacinta. She's now living a peaceful life with her family, but is still a legend in the local music scene.
7. Mariqueen Maandig
A post shared by MARIQUEEN MAANDIG REZNOR (@mariqueenmaandigreznor) on
A rising name in the western rock scene, Filipino-American Mariqueen has rocked a lot of fans even before becoming the wife of Trent Reznor, the man behind Nine Inch Nails. A rock goddess on her own, she's joined multiple rock bands before settling down for motherhood.
Being a mother of four boys and a rock star mademoiselle, she continues to melt the hearts of fans and families.
8. Myrene Academia
From Imago to Sandwich, Myrene has rocked the bass for a long time now, even before Betamax days. Becoming a mother to Atari, however, is a whole new world for her.
Cruising and embracing the arms of motherhood is an exciting rhythm, and she shares every minute of music and life exploring with her.
Happy Mother's Day to all you mommies out there! Keep on rocking beautifully!